Just like the Wedding Industry, when it comes to pregnancy and baby stuff, it is quite the business. There is so much stuff out there that creating a registry becomes a very overwhelming task, especially when experts say, what may work great for one baby, may not work well for another.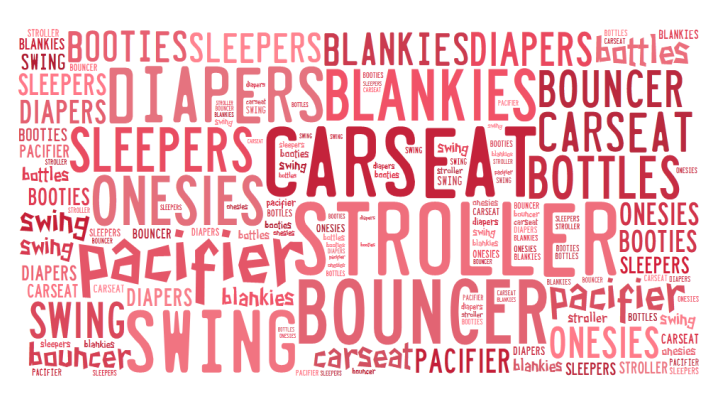 Start your registry by prioritizing what items are most important to you. I started my registry, by prioritizing what was the most important baby and pregnancy items, for my husband and I. For example, stroller, car seat, and carriers were on the top of my list. Once I narrowed it down, I researched these items in detail. Also some of the baby books I read, touched point on some important must have items.
Next, determine what is important to you based on your lifestyle. Are you on a budget? Do you travel often? Do you live in a small space? Do you hike or run? What kind of car do you have? We decided what was important to us based on our lifestyle. One of the main thing that was important to me was I wanted my baby products to be green, organic, chemical free, and as environmental friendly as possible. This meant, glass baby bottles instead of plastic, environmental friendly diapers, an organic mattress etc. Because your baby only uses some of these items for a short time, my husband was more worried about the cost and staying on a budget. We both wanted to try to stay as minimal as possible, registering for things we really needed. We also live in a small 1950s duplex, so having space for a lot of big things were out of the question. I am a runner so I definitely felt having a running stroller was a huge necessity for me, plus it is sporty for my husband to use as well. My friend, Mariana, who recently had a baby, her main priority was all of her baby items had to be light weight and portable, since she travels and moves often.
Ask other moms, ask a friend to help you. I was also lucky enough to have my friend Mariana help me with my registry.  She was the biggest help walking me through Buy Buy Baby, pointing out the things she loves and the things she just didn't need. I also have a couple friends who just had babies in April and May, and some that are due in July. I took a look at their baby registries, just to see if they had items on there, that I may have forgotten to put on mine.
Where should you register? There are a lot of great places to register at. I ended up choosing Buy Buy Baby and Amazon. Buy Buy Baby is affiliated with Bed Bath and Beyond. You can use your Bed Bath and Beyond coupons there and they match prices. Amazon is great because a lot of people have amazon prime. Also some items that I couldn't find at Buy Buy Baby, I found on Amazon. Another great place to register is with MyRegistry.com. This is a website that lets you combine items from several different stores. Also take note: If you are going to get a running stroller, you may consider getting it at REI. My husband surprised me with our running stroller and car seat. He ended up getting it at REI on sale during Memorial weekend.
This brings up a very important question… what do you need? ¬†Do you really need all of this baby stuff? Our moms and grandmas raised us just fine with out all this extra stuff. When choosing baby items, it really depends on your lifestyle and living space. At the end of the day, the ultimate question is not do you need all this stuff, but rather, what will make your life easier?
If you are in the process of making a baby registry, check out my registry for ideas. Or if you have already made one, you can compare your registry to mine.
My baby registry at Buy Buy Baby and Amazon.
What is your must have baby item? Was there a product you or your baby couldn't live with out?
© sweat1xdaily 2015